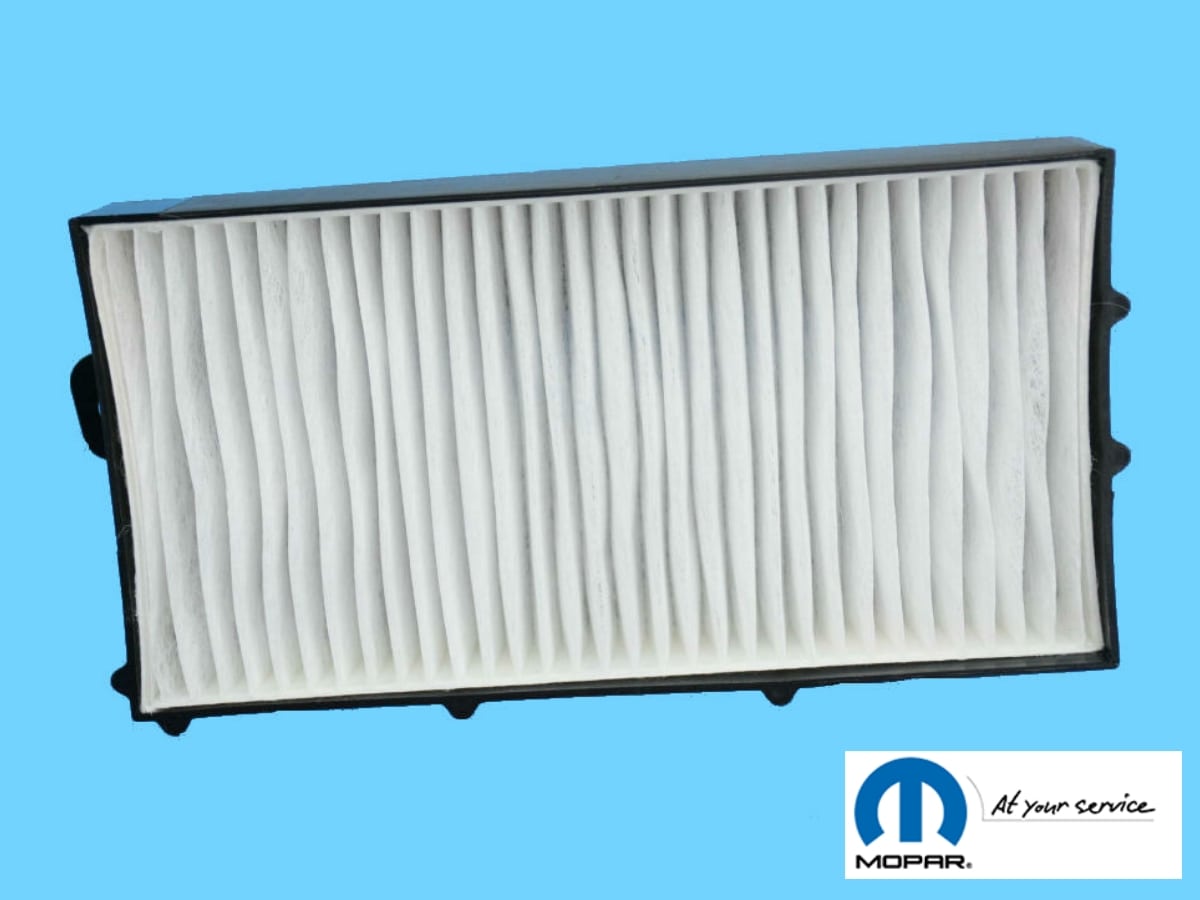 Chrysler Dodge Jeep Ram Cabin Air Filter Replacement
Our world is full of pollution, allergens and more whether we like it or not. When we drive, our cabin air filter helps to make sure that the air inside our car is as clean and fresh as possible.
What Is a Cabin Air Filter?
Your cabin air filter, generally located inside your glove box, helps reduce the amount of pollution and other nasty things that come into the cabin of your car via the ventilation system. You can drive through an area that is full of dust and allergens and just about anything else and your cabin air filter will catch it and keep it out of your car and out of your lungs. Your cabin air filter also helps to eliminate odors that might be a bit pungent and unpleasant when you are in your car. A cabin air filter needs to be changed out every so often to make sure that the air you are breathing when you are in the car is as fresh and clean as possible.

Benefits of Replacing a Cabin Air Filter
The cabin air filter can greatly improve the overall quality of the air inside your car. It can also help get rid of smells, dirt, and dust, and can protect you from pollution and other airborne contaminants that you might be driving through. This little filter does a lot of work and can make sure you are comfortable and can breathe easy when you are driving. This is a simple fix that takes only a couple of minutes to swap out but can make a big difference. You can have this filter replaced while you're having another service, such as an oil change.
Effects of Delaying Cabin Air Filter Replacement
A dirty filter is not going to filter the air inside your car well. It is going to smell strange, it might mold, and it is certainly not going to make any difference in the overall air quality of the air in your car. This is a cheap filter and the change only takes minutes so avoiding it or just not having it done is going to cause harm and be detrimental to the overall quality of the air inside your car.
Cabin Air Filter Replacement in Columbia, IL
Columbia Chrysler Dodge Jeep Ram offers Saturday service hours, express lanes, and also has a team of highly-trained technicians and a state-of-the-art service center. They can change any filters you need and can do so quickly and efficiently to get you back on the road.
Dealer Wallet Service Marketing & Fixed Ops SEO by
Service Hours
Monday

07:00AM - 06:00PM

Tuesday

07:00AM - 06:00PM

Wednesday

07:00AM - 06:00PM

Thursday

07:00AM - 06:00PM

Friday

07:00AM - 06:00PM

Saturday

07:00AM - 05:00PM

Sunday

Closed