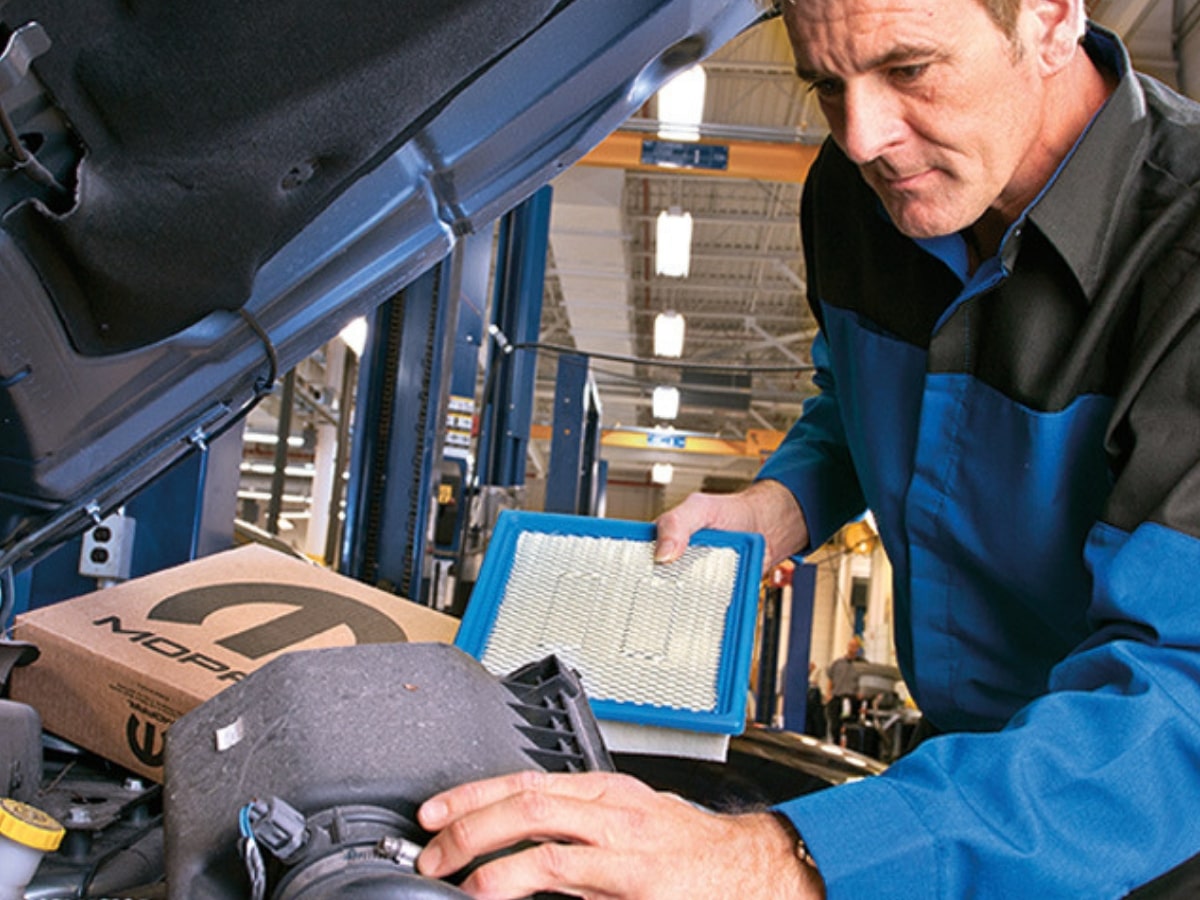 Stay Running Lean and Clean With Engine Air Filter Service in Columbia, IL
No matter what kind of vehicle you drive, it has an engine air filter to keep it running its best. So long as it has an internal combustion engine, it has an air filter ensuring only clean air gets through. Lots of car owners ignore the engine air filter service. That is because the air filter is out of sight under the hood and easy to overlook. Our factory-trained technicians at Columbia Chrysler Dodge Jeep Ram can do an engine air filter service on any make or model vehicle. We have a full selection of genuine MOPAR engine air filters and others by the top brands in the business.
What Engine Air Filter Service Does
Our ASE-certified technicians will check your car's air filter for dirt, tears, bad seals, and other imperfections. If the air filter is bad or nearing the limit of its service life, we replace it with a brand new one. The new air filter will help to ensure only good, clean air goes into your engine's combustion chamber for cleaner and more efficient running. Service is fast and very affordable. It also is one of the most common preventive maintenance items you can do to improve fuel economy and reduce emissions. In just a couple minutes and for relatively little money, we can have your car, truck, minivan, or SUV running better with an engine air filter service in Columbia, IL.

Why You Need to Replace Your Air Filters
All engine air filters have a service life. When yours gets near the end of its useful life, it likely has picked up a lot of dust, dirt, debris, and other contaminants. It also might have cracks, tears, or dry-rotted seals. If so, you have bad air getting into your engine's combustion chamber. That will reduce your fuel efficiency, reduce power, and cost you more to run your car. It also will create more emissions and exhaust fumes entering the atmosphere. A quick and affordable engine air filter service will put a new, clean filter in your car and help keep it running its best once again.
Schedule Service at Columbia Chrysler Dodge Jeep Ram Today
If your engine air filter service is due, we can take care of it. Just stop by our service center for a quick and fast replacement service. We will inspect your engine air filter and replace it as needed. You can drop off your car and use a free shuttle to get around St. Louis, MO, Oakville, MO, Waterloo, IL, and other nearby locales. We will have your car ready before you return.
Dealer Wallet Service Marketing & Fixed Ops SEO by
Service Hours
Monday

07:00AM - 06:00PM

Tuesday

07:00AM - 06:00PM

Wednesday

07:00AM - 06:00PM

Thursday

07:00AM - 06:00PM

Friday

07:00AM - 06:00PM

Saturday

07:00AM - 05:00PM

Sunday

Closed